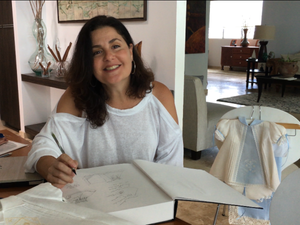 About Us | Designer Lori Riollano
The simplicity, playfulness and elegance of a kite floating against the sky…. the Papalotes experience.
The brand papalotes exalts all those special moments and celebrations that give true meaning and joy in life. The European style and the Caribbean flair coalesce in our high-end collections, in which we strive to provide the best stitching, appliques and fabrics available. Papalotes comprises its own brand, which includes apparel, shoes ( hand made in Spain), jewelry and accessories made in Puerto Rico, the Caribbean, South America  and Spain. 
We also offer unique pieces and custom made clothing, as well as a wide selection of brands from Spain and Italy. Our aim is to provide a personal shopping and styling experience in a family ambience.  In our journey through the years it's been a delight to dress the children of some our most beloved families and public figures of Puerto Rico, including governors, artists, TV personalities, baseball and basketball players.
Read more
Our store
Papalotes Albolote Ave
Guaynabo, Puerto Rico, 00969
Mon - Sat /10:30am - 6pm
Tel. 787-999-0832